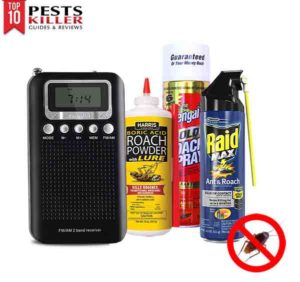 There are lots of irritating pests in the world, but cockroaches might be the worst. If you've ever seen one of these creepy bugs crawling around your home, you'll understand the stress and panic they can cause. Unfortunately, roaches probably won't go away on their own, and you need to take care of the problem quickly before it gets out of control.

Best Roach Bomb Reviews of 2023
Professional exterminators are expensive, so you may want to take matters into your own hands. There are a wide variety of different roach killers to choose from, but you should make an informed decision. Here are 10 of the best roach bombs: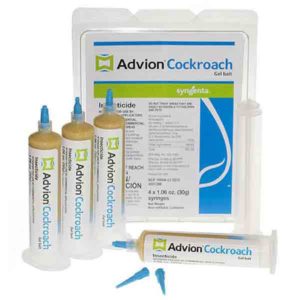 Advion Roach Bait Gel uses Indoxacarb, a low-toxicity pesticide. The gel attracts hungry roaches and should kill them within a day or two. According to the manufacturer, you can use it in homes, schools, and commercial locations as well as in trains, buses, or other forms of transportation. To use the gel, apply one to three one-quarter inch spots on the wall or floor every 10 feet. For severe infestations, apply three to five spots every 10 feet.
You can buy Advion Roach Bait Gel in packs of four tubes. One package should be enough to cover an average-sized home, but larger spaces may need more. The expiration date should be printed on the package, but the gel usually stays active for two years after purchase. If you don't use it all right away, you can keep it in case the infestation returns next year.
Almost all reviewers say that their roach problem is gone within days or weeks of using the gel , even when they haven't had any luck with other products. Some say that they didn't even realize how bad their infestation was until they saw all the dead roaches the next morning. The gel works on all different species of cockroaches.
You'll have to make sure your home is clean and crumb-free before putting out the gel. If the roaches have another source of food, they won't eat the gel. You should also be careful if you have pets. Small amounts of the roach gel is probably safe, but you don't want to risk harming your pets. If you can't apply the gel somewhere that's out of your pet's reach, you should buy a different roach bomb that's definitely pet-friendly.
Pros
Works quickly and effectively
Cost-effective
Odorless
Cons
May not be pet-friendly
Needs to be reapplied occasionally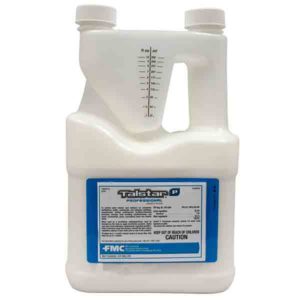 Talstar Pro's active ingredient is the pesticide bifenthrin. It works on dozens of different pests, including cockroaches. The 96-ounce bottle comes as a dried concentrate, so you'll have to mix the powder with water in a spray bottle. The manufacturer recommends mixing one ounce of the concentrate with one gallon of water and spraying it on your baseboards, window frames, or other areas where you see pests. You can also use it outside.
Talstar Pro leaves a long residual, so it can continue killing roaches up to three months after you spray it. It's also resistant to rainfall, so it should last a long time when used outside. One ounce mixed with a gallon of water covers 1,000 square feet , so the 96-ounce bottle should last you practically until the end of time.
This pesticide is safe to use in your kitchen or near food, but you still have to be careful when spraying it. Don't ingest or inhale it, and wear goggles and gloves when spraying it to avoid direct contact. When dry, it should be safe for pets, but your pets need to stay away from the wet solution.
Talstar Pro is recommended for people who want a long-term solution and don't mind buying a spray bottle, goggles, and the other equipment needed. Most users are thrilled with the product and notice an improvement right away
Pros
Odorless; dries clear
Targets other bugs in addition to roaches
Good for indoor and outdoor use
Cons
Requires purchase of spray bottle
Need to wear gloves and goggles when spraying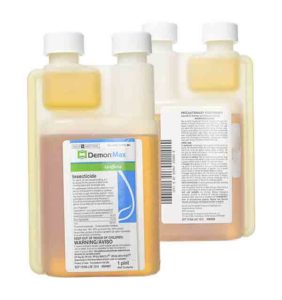 Demon Max Insecticide uses cypermethrin as an active ingredient, but it only needs a low concentration to work. You should mix one ounce of the insecticide with one gallon of water in a spray bottle and apply the solution around the outside of your home. The manufacturer says that the product is safe for use indoors, but it may stain flooring and can be toxic if your skin makes direct contact. To be safe, stick to the outside of your home when spraying it.
This insecticide has a long residual, so it should keep working for a few months after you spray it. Even in rainy areas, you should only have to reapply every two or three months. It has a low water solubility, so it won't leach into water supplies or hurt the environment . Most reviewers say that the product works immediately. As soon as you spray the insecticide, your home should become safe from roaches, spiders, and other pests.
This insecticide could be fatal if swallowed, so you have to keep it out of reach of your children and pets. After spraying it outside, keep your kids and pets indoors for a few hours until it dries. You also can't use it on vegetable plants, fruit trees, or anything else you plan on consuming.
Demon Max Insecticide is one of the most powerful roach killers for outdoor use. It should take care of your problem quickly. However, it's only recommended to people who will take the right precautions and be safe and careful with the product.
Pros
Long-lasting
Low environmental impact
Kills a variety of pests
Cons
Not safe around pets
Can't use on any plants you'll consume
Need to purchase spray bottle, goggles, and gloves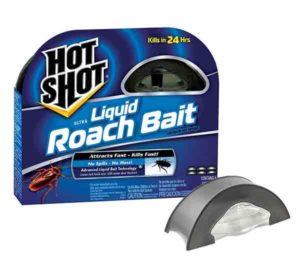 Cockroaches enter homes to look for food, but they're also attracted to water. While they can go a month without food, they only last a week without water. That's why they're so often found in the kitchen or the bathroom.
Hot Shot Roach Bait uses a combination of food and water, so it's very appealing to the pests
. The bait is also slow-acting, so roaches have plenty of time to return to their nests and pass the poison on to their eggs before dying. Therefore, it should kill roach eggs and stop the life cycle.
The product comes with six bait stations. To set up a station, all you have to do is pull the tab to break the seal and place the station where you've seen roaches. Good locations include under your sink, under your refrigerator, or inside closets or cabinets.
Depending on how big your home is and how bad your roach problem is, you may have to set up all six bait stations at once. The manufacturer says that each station should last for three months, but some reviewers say that they dry out after six to eight weeks .
This product is highly recommended for indoor roach infestations, especially in kitchens or bathrooms where roaches look for moisture. It stops cockroaches from breeding and kills their eggs, so it should take care of your infestation within days or weeks.
Pros
Safe for indoor use
Kills cockroach eggs
Cons
Need to buy replacements every few months
Slower to work than other products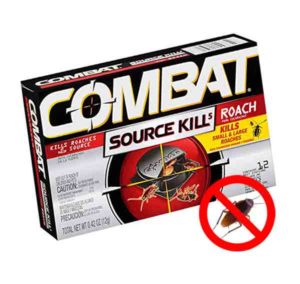 Combat Source Roach Bait works similarly to the Hot Shot bait but uses the insecticide hydramethylnon. A roach will enter the bait station, eat the bait, and bring it back to the nest. Then, it will share the bait with the other roaches, which will kill the entire colony. Most pesticide sprays only kill the bugs that come into direct contact, but the Combat Source bait gets into the nest and kills the source of the infestation.
Combat Source Roach Bait comes as a pack of 12 bait stations. After setting up the bait stations, you should check them every few days or weeks to make sure there's still some bait left. If the bait is all gone but you still see roaches, you'll have to set up another bait station.
This product is toxic to pets. You should keep it inside closets, cupboards, or other areas that are safe from your animals. One reviewer reports that the bait strongly attracts pets even when it's in a cupboard, so pet owners may want to choose a different product to be safe.
Combat Source Roach Bait is a great indoor product for pet-free homes. Most reviewers are very happy with the results and with how easy the bait is to use.
Pros
Kills roaches at their source
Works well indoors
Cons
May be difficult for pet owners
Works more slowly than insecticide sprays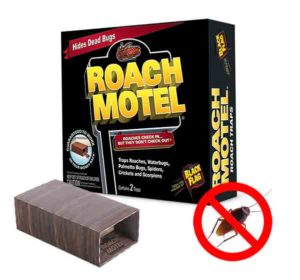 The Black Flag Roach Motel includes 12 packages with two "motels" in each package. The product uses a special lure that attracts cockroaches. Once a roach enters the "motel," it becomes trapped in a sticky glue. One "motel" can last for four months, but you should throw it away as soon as it fills up with roaches.
These traps don't use any pesticides or fumes, so they're safe to use around pets. You also don't have to worry about stepping on dead roaches or sweeping them up off your floor. The roaches will stay in the trap, so all you have to do is throw the trap away. With a total of 24 "motels" in the package, you should be able to cover your entire home.
Although these traps work well for catching roaches, they don't kill the infestation at its source. If you only need to catch some roaches that occasionally wander into your home, this product will be great. If roaches are nesting and breeding inside your house, you'll need something that kills their nests and eggs.
Pros
No pesticides or fumes; non-toxic
Don't have to clean up dead roaches
Good value for cost
Safe for pets
Cons
Odor when roaches die in the traps
Doesn't stop the source of the infestation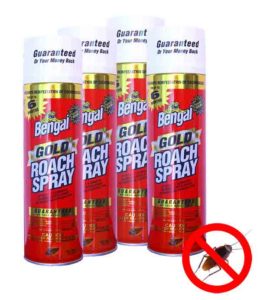 Bengal Gold Roach Spray comes as a pack of four bottles with an extension tube. To use the spray, place the extension tube onto the nozzle and spray into cracks and crevices throughout your home. The best places to spray include underneath or behind your sinks, dishwasher, refrigerator, or washing machine. The manufacturer says to avoid spraying your baseboards as it's mostly a waste of the product.
This is a dry spray that contains sumithrin, a powerful insecticide, and nylar, an insect growth regulator. Nylar makes adult roaches unable to breed and baby roaches unable to develop into adults. This will stop the life cycle and prevent reinfestation. The extension tube will help you get the spray deep into the crevices where roaches live, so you can target all of them.
Bengal Gold Roach Spray doesn't leave residue and degrades over a few days. Some sprays keep killing roaches for months after you use them, but this product will need to be reapplied every once in a while. It's safe to use in homes with kids or pets , but you should keep them away from the area for a few hours after spraying. Direct skin contact with the spray can cause irritation or even frostbite, so you should protect yourself with gloves.
Pros
Safe around pets and kids
Stops roaches from reproducing
Cons
Direct skin contact can cause irritation and frostbite
Needs reapplication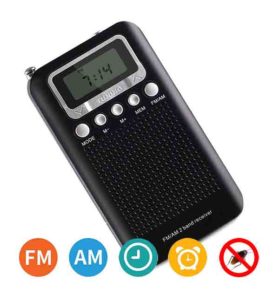 The Ultrasonic Pest and Mouse Repellent comes as a package of six devices. Each device emits an ultrasonic frequency that affects pests' central nervous systems and destroys their senses of smell. Soon, the pests will feel so uncomfortable that they'll leave your home. One device can cover up to 1,200 square feet, so you can use it in your home, garden, or in a commercial location. However, ultrasonic frequency doesn't travel well through walls, so you may need to set up one device in each room.
It usually takes three to four weeks to see an improvement in your pest problem . You also might see more pests in the first few days as they leave their hiding spots to try to escape the ultrasonic frequency. If you have a bad roach infestation that you want to take care of immediately, this may not be the best option for you.
This repellent sends roaches and other pests away instead of killing them, so it's a good option for people who are uncomfortable with harsh pesticides or traps. It doesn't use any chemicals or poisons, so it's perfectly safe to use around children and most pets . You shouldn't use this product if you have hamsters, mice, or other rodent pets, though.
Pros
Non-toxic; safe for children and most pets
Easy to set up
Humane way to repel pests
Cons
Takes time to work
Need separate devices for each room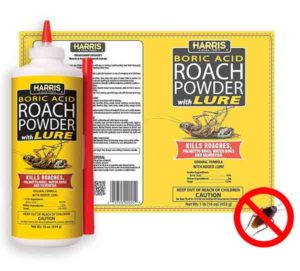 Harris Boric Acid Powder comes in a 16-ounce bottle with an extended straw to get inside cracks and crevices. To get rid of roaches, you should apply a light dusting of this powder along your baseboards, behind your refrigerator, or wherever else you've seen the pests. When a roach crawls through the powder, the boric acid will interfere with its digestive system. Any powder that sticks to the roach's body can transfer to other roaches in the colony, too.
Boric acid is a popular pest repellent and is easy to find in grocery stores, but this Harris product also contains a food grade lure that attracts roaches. The powder should kill roaches within 72 hours of contact , so it's fairly fast-acting. As long as the powder stays dry, it will keep working for several weeks after application. It should be safe to use around pets as you only need to use a small amount of powder.
The product is usually very effective, but you'll have to be okay with leaving some of the white residues on your floors. If you're trying to target roaches throughout your whole house, it might get messy. Some reviewers say that the straw doesn't fit well into the bottle, so it may be hard to be precise in your application.
Harris Boric Acid Powder is recommended for people who want a safe and quick way to kill roaches but don't mind a little mess. It's also a great budget option for people who want an inexpensive solution.
Pros
Kills roaches quickly
Safe around pets
Inexpensive
Cons
Can be messy
Straw is not always helpful for cracks and crevices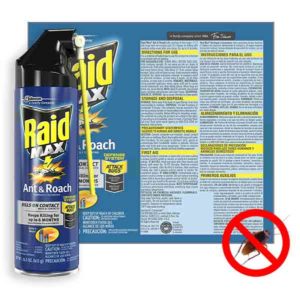 Raid Max Ant and Roach Killer is one of the most powerful pesticide sprays that nonprofessionals can buy. The bottle is 14.5 ounces and comes with an applicator wand to spray baseboards or cracks. It kills roaches right away on contact, and it stays effective for up to six months after you spray it.
To use this roach killer, you should hold the bottle 12 inches above the surface you're targeting. Spray the surface until it's visibly wet, and spray roaches directly if you see them. You should use the spray wherever you've seen roaches and on all the baseboards in your home. If you leave any areas untreated, the roaches will just relocate there. After spraying this product, all people and pets will need to leave the house for several hours until it dries.
This spray is very powerful, but that means it can be dangerous, too. You'll have to be careful not to get the chemicals on your skin , and you should wash your hands and clothing thoroughly after spraying. It's toxic to consume, so you can't use it near any food or drinks. It should be safe once it's dry, but people with kids or pets may want to choose a different product just in case.
Pros
Lasts for six months
Works quickly
Cons
Toxic; risky if you have young children or pets
Leaves an odor for a few days
Best Cockroach Killer – Buyer's Guide
Most roach killers aren't cheap, so you should do your research before you buy one. There are many factors you should consider when looking for a good pest repellent.
Define The Target
The first thing you should notice is which pests the product targets. Generally, products that are specifically meant to kill roaches will be the best at killing roaches. However, reviewers say that their roach problem is gone within days or weeks of using the gel . If possible, try to figure out which species of cockroach you have a problem with, and make sure the product you buy is known to kill that species.
Coverage Area
Another consideration is the coverage area. Traps and baits will only cover a limited range, so you'll need to figure out how many you should buy to cover your entire house. You should also find out how long the pest repellent will last. Some leave residue that keeps killing roaches for months, but some only work for a few hours or days. Consider the coverage area, how much of the product you'll need, and how long the product will last to figure out if it's a good bargain.
Safety
One of the most important factors, especially for families, is safety. All commercial pest repellents are safe enough that they're still on the market, but most do use harsh chemicals and pesticides. If you have young kids who like to crawl around and put things in their mouths, you may want to choose a chemical-free repellent or a product that will stay out of their reach. If you have pets, you'll also have to be careful about choosing a pet-safe product.
Best Cockroach Killer
All of the products on this list are great roach repellents. Depending on your personal situation, some may work better for you than others. If you want a fast-acting roach killer, a spray might be the best option. If roaches are nesting and breeding in your home, one of the baits might be better. Take your time when making a decision, so you can choose the roach bomb that will take care of your problem for good.